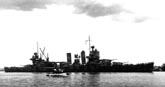 CA-44 with Seagull aircraft.
After a brief post-voyage period of repairs, the heavy cruiser sailed for the Virginia capes, where she rendezvoused with Ranger (CV-4) and Sampson (DD-394), proceeded on to Bermuda and dropped anchor in Grassy Bay on 30 April. She patrolled in the Caribbean and off the Atlantic coast of the United States through June.
On occasion, she steamed in company with such ships as Yorktown (CV-5), Augusta (CA-31), Ranger, Wichita, or Tuscaloosa. After continuing her duties with the Neutrality Patrol into the autumn as American naval forces in the North Atlantic found themselves engaged in a de facto war with Germany, Vincennes undertook another mission to South African waters. She left the east coast late in November with Convoy WS-12, American transports carrying British troops. On 7 December 1941, the cruiser fought its way through heavy seas. Walls of water mercilessly pounded the ships of the convoy; and waves battered Vincennes, smashing a motor whaleboat to matchwood and ripping a Curtiss SOC Seagull floatplane from its "moorings" on the storm-lashed well-deck amidships. The plane was battered against the catapult silos and into the hangar doors before it was swept over the ship's side. By that evening, however, the ship learned that she was not only at war with the elements but with Japan as well. Japanese naval air forces had struck Pearl Harbor and plunged the United States into war.
After having safely convoyed her charges to Capetown, where she arrived on 9 December, Vincennes departed South African waters on the 16th, bound via Trinidad for Hampton Roads. Following her arrival at Norfolk on 4 January 1942, she shifted to New York four days later to be outfitted for war. Late in the month, she joined Hornet (CV-8) as the carrier conducted her shakedown training off the east coast of the United States. Vincennes sailed from New York on 4 March, bound for the Pacific. She transited the Panama Canal on 11 March and proceeded via San Diego to San Francisco. The heavy cruiser, now a part of Task Force 18 (TF-18), built around Hornet departed San Francisco on 2 April. The carrier bore a strange deck cargo, 16 Army B-25 medium bombers slated to strike at Japan's heart. Vincennes rendezvoused with TF-16, built around Enterprise (CV-6) and, with the combined might of the two task forces, struck out westward across the Pacific, headed toward Japanese home waters.